Scale Computing Storage

Hyperconverged Infrastructure Changing The Way IT Runs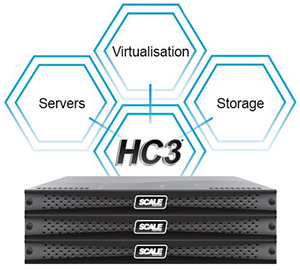 Simple. Powerful. Hyperconverged.
HC3 is the IT virtualization infrastructure platform that is changing the way IT runs from the ground up. Combining servers, storage, hypervisor, and backup/DR, HC3 is helping IT administrators transform their infrastructures to be more scalable, more highly available, and more affordable. Simplicity is the not-so-secret ingredient in HC3 delivering savings over traditional infrastructure solutions and the hyperconverged competition.
True Hyperconverged Infrastructure
HC3 brings together virtualization, servers, storage, and backup/disaster recovery into a single solution. All of the components are built together into the solution, including the hypervisor, with-out the need for any third party components or licensing. Every component has been designed for highly efficient virtualization infrastructure, from the intelligent storage architecture to the low cost of ownership.
HC3 Hardware Platforms:

CPU: Intel E5-2603v4 - Intel E5-2620v4
CPU Cores: 6 - 8
CPU Threads: 6 - 16
CPU Clock Speed: 1.7GHz - 2.1GHz/3GHz
RAM Size: 64GB, 128GB
NL-SAS Storage RAW Capacity: 4TB (4 x 1TB) - 32TB (4 x 8TB)

CPU: Intel E5-2620v4 - Intel E5-2640v4
CPU Cores: 8 - 10
CPU Threads: 16 - 20
CPU Clock Speed: 2.1GHz/3GHz - 2.4GHz/3.4GHz
RAM Size: 64GB, 128GB, 256GB
NL-SAS Storage RAW Capacity: 3TB (3 x 1TB) - 32TB (4 x 8TB)
SSD Storage RAW Capacity: 480GB (1 x 480GB) - 1.92TB (1 x 1.92TB)

CPU: 2x Intel E5-2620v4 - 2x Intel E5-2640v4
CPU Cores: 16 - 20
CPU Threads: 32 - 40
CPU Clock Speed: 2.1GHz/3GHz - 2.4GHz/3.4GHz
RAM Size: 128GB, 256GB, 512GB
NL-SAS Storage RAW Capacity: 3TB (3 x 1TB) - 24TB (3 x 8TB)
SSD Storage RAW Capacity: 960GB (1 x 960GB) - 1.92TB (1 x 1.92TB)

CPU: 2x Intel E5-2620v4 - 2x Intel E5-2640v4
CPU Cores: 16 - 20
CPU Threads: 32 - 40
CPU Clock Speed: 2.1GHz/3GHz - 2.4GHz/3.4GHz
RAM Size: 128GB, 256GB, 512GB
SSD Storage RAW Capacity: 3.84TB (4 x 960GB) - 7.68TB (4 x 1.92TB)

CPU: Intel E5-2620v3 - Intel E5-2640v3
CPU Cores: 6 - 8
CPU Threads: 12 - 16
CPU Clock Speed: 2.4GHz/3.2GHz - 2.6GHz/3.4GHz
RAM Size: 64GB, 128GB, 256GB
Storage RAW Capacity: 2.4TB (4 x 600GB) - 7.2TB (4x1.8TB)

CPU: Intel E5-2640v3
CPU Cores: 8 - 8
CPU Threads: 16 - 16
CPU Clock Speed: 2.6GHz/3.4GHz
RAM Size: 128GB, 256GB
NL-SAS Storage RAW Capacity: 3TB (3 x 1TB) - 18TB (3 x 6TB)
SSD Storage: 400GB (1 x 400GB) - 800GB (1 x 800GB)

CPU: 2x Intel E5-2620v3 - 2x Intel E5-2687Wv3
CPU Cores: 12 - 20
CPU Threads: 24 - 40
CPU Clock Speed: 2.4GHz/3.2GHz - 3.1GHz/3.5GHz
RAM Size: 128GB, 256GB, 384GB, 512GB
Storage RAW Capacity: 4.8TB (8 x 600GB) - 14.4 (8 x 1.8TB)

CPU: 2x Intel E5-2640v3 - 2x Intel E5-2687Wv3
CPU Cores: 16 - 20
CPU Threads: 32 - 40
CPU Clock Speed: 2.6GHz/3.4GHz - 3.1GHz/3.5GHz
RAM Size: 384GB, 512GB
NL-SAS Storage RAW Capacity: 6TB (6x1TB) - 12TB (6x2TB)
SSD Storage: 800GB (2 x 400GB) - 1.6TB (2 x 800GB)

CPU: 2x Intel E5-2620v4 - 2x Intel E5-2640v4
CPU Cores: 16 - 20
CPU Threads: 32 - 40
CPU Clock Speed: 2.1GHz/3GHz - 2.4GHz /3.4GHz
RAM Size: 128GB, 256GB, 512GB, 768GB
NL-SAS Storage RAW Capacity: 36TB (9 x 4TB) - 72TB (9 x 8TB)
SSD Storage: 2.88TB (3 x 960GB) - 5.76TB (3 x 1.92TB)