Distributed Enterprise

HC3 for the Distributed Enterprise
The modern distributed enterprise often consists of a central office where IT staff and operations are local and a number or remote or branch sites with minimal or no IT staff. It is common for remote offices to be not just remote but quite far away making travel a complicated issue for internal support staff stationed at a central office to service themselves. Remote and branch offices usually have the same IT needs of the central office, but often on a smaller scale, not justifying the cost of similar infrastructure or any onsite staff.

A typical approach to dealing with remote office IT infrastructure needs is to replicate the central office's platform stack on a smaller scale. This approach often involves costly and unnecessary software licensing and hardware that makes little or no sense for the needs of the remote office. A SAN, for example, that might make sense for large scale storage consolidation at the central office might offer no benefits but many caveats for the remote office. A complex, distant system design means more cost to purchase, more cost to support and ultimately a lot more risk to the business.
HC3 hyperconverged infrastructure is ideal for both the central office and remote and branch offices because it encapsulates the simplicity, scalability, and availability that reduce infrastructure management footprint. HC3 systems can be remotely managed through a single web interface that allows an administrator visibility into hardware and software components including hypervisor and individual VM consoles. HC3 scales from very small to enterprise ready infrastructure needs making it the right fit for any size site.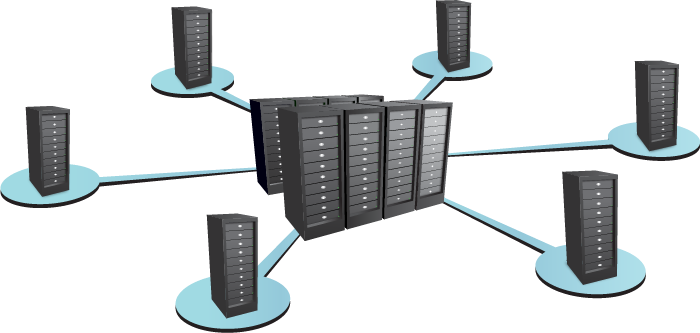 Rapid Deployment
HC3 can be racked, cabled, powered on, configured in a matter of minutes, and VMs can be deployed and running in under an hour.
Self Healing Storage
The block access, direct attached storage system in HC3 can automatically recover from individual drive failure to keep VMs running while the drive is replaced.
Web-Based Management
Administrators can quickly connect their web browsers to remote HC3 systems and manage storage and virtual machines from a single management interface.
Replication
VMs can be replicated between two HC3 systems with native, built-in replication. Replication can be local or remote across any distance and can be configured to replicate changes as often as every 5 minutes.
Remote Support Access
HC3 offers a remote access point exclusive to ScaleCare support to help diagnose support issues and take corrective actions if necessary.
When it comes to distributed enterprise, HC3 shines because it was designed starting with the needs of the individual administrator in mind. Designed for minimal management of the infrastructure, HC3 allows one administrator to easily manage infrastructure remotely across multiple sites. The built in replication helps protect those remote sites without the need for an additional DR solution. HC3 and distributed enterprise are a perfect match.